Let the world know. Visit Booth 718.
In digital age, a "Ninja" has become a term for "a person who is expert or highly skilled in a specified field or activity," according to Dictionary.com.
You're at CSUN to attend highly specialized, professional training. After the conference, let the rest of your office know about your dedication and advanced expertise.
Register to discuss your Website accessibility with us, and we'll save an "I'm an Accessibility Ninja!" mug for you.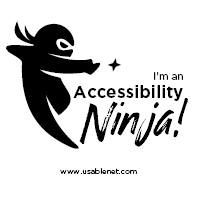 Did you know? Ninjas originated in the mountains of Japan over 800 years ago as practitioners of ninjutsu, a martial art sometimes called "the art of stealth."
Looking to advance your ninja skills?Don't miss these CSUN sessions, featuring speakers from UsableNet.